posted by Yin on 29/02/2012
Tom Hardy's career has sky-rocketed since 2010's Inception, with great performances in critically acclaimed Tinker, Tailor, Soldier, Spy and Warrior cementing his place as one of the finest actors in the business. Later on this year, he'll be reuniting with Christopher Nolan for that 'small' film The Dark Knight Rises, but before that he joins Chris Pine (Star Trek) in This Means War, at its core a romantic comedy  but with a hint of action.    
follow me on twitter
The plot follows FDR (Pine) and Tuck (Hardy), best buds and highly trained CIA agents. When both men start dating disheartened single Lauren (Reese Witherspoon), they use their skills and resources to win Lauren's affections. Cue tranquilizers, sprinkler malfunctions, and many other methods of date sabotage, and This Means War earns its title over the brisk 98 minute run time.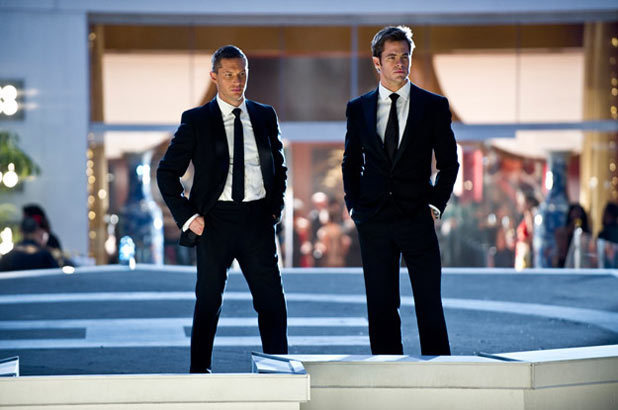 The contrasting personalities of FDR and Tuck serve the film well. Pine's FDR is the cocky womaniser, whilst Hardy's Tuck takes the softer approach. Crucially, the film is not so shallow as to relegate Witherspoon's Lauren to little more than a pawn in the men's game – she did decide to date two men at the same time after all – and there are even some passing reflections on relationships.  However, Lauren's constantly varying levels of guilt are irritating to behold; she whines about simultaneously dating two men, only to seemingly be OK with it in the very next scene. In addition, This Means War can't shake its predictable nature, and even the most unaware viewer will recognize the familiar plot threads.
The real enjoyment to be derived from This Means War comes from watching FDR and Tuck try to outdo each other as they compete for Lauren's love. The results are very amusing, and only get funnier as the 'war' escalates. Even their respective teams are not exempt from some hilarity, with Daren Herbert's Agent Bothwick in particular making good use of his limited screen time. There is only a minimal amount of ass-kicking action sequences, but in those sporadic moments when they do appear on screen they are satisfactory, if a little OTT.
That This Means War works at all is down to the fine casting of its central characters. It's clear that both Hardy and Pine enjoyed playing their roles, and their bromance is just as convincing as their romancing. Much of the film relies on Witherspoon's character gaining our sympathies and she pulls it off well, all the while radiating great chemistry with Pine and Hardy. She is ably backed up by US comedienne Chelsea Handler as Lauren's best friend Trish, whose brand of unique humour works more often than not.
In a missed opportunity, Angela Bassett is grossly underused as the agents' boss. Til Schweiger's 'villain' is almost rendered an afterthought in the proceedings, which underlines the fact that the action is a distant second to the rom-com. Although This Means War is certainly not the best of these genres, there are just enough elements of both that will appease the diverse audiences it is likely aimed at.
 "Any Last Words"? Bolstered by the performances of Hardy, Pine and Witherspoon, This Means War is a predictable yet entertaining watch that both genders will enjoy.
Starring | Tom Hardy, Chris Pine, Reese Witherspoon, Laura Vandervoort, Til Schweiger, Chelsea Handler, Abigail Spencer and Angela Bassett.
Director | McG                                 Certificate | 12A                              Run Time | 1 hour 38 minutes
This Means War was screened at the Empire Leicester Square courtesy of 20th Century Fox in partnership with Think Jam PR.
This Means War is released in the UK on March 2.
 Check out the trailer below.