posted by Amon on 17/02/2012
Like a girl who loves bad boys, Cinema loves anti-heroes, and comic books have no shortage of them. Wolverine and Hulk may be among the most popular bad-asses, but Ghost Rider has a strong claim at being the ultimate anti-hero. 2007's Ghost Rider didn't manage to depict that effectively, raking in a notable $227 million worldwide but garnering a lot of criticism in the process. With directors of Crank Brian Taylor and Mark Neveldine at the helm, is Ghost Rider: Spirit of Vengeance the film that the character deserves?
follow Amon on twitter
The story may sound familiar to you by now: to save his Father, Johnny Blaze (Nicolas Cage) sold his soul to the devil. Instead, Blaze became the devil's bounty hunter – named the Ghost Rider – with his Father winding up dead anyway. Spirit of Vengeance picks up eight years after Ghost Rider, with Johnny Blaze now in exile in Eastern Europe struggling to keep the demon at bay. That all changes when he is approached by Moreau (Idris Elba), a monk from a secret sect of the Church. With the promise of being rid of his curse for good, Blaze agrees to help save a young boy from the Devil (Ciáran Hinds).
From the outset it is clear that this is a grittier take on Ghost Rider, and fans of the comic books in particular will be happy with its adherence to the mythology throughout. Although the film starts off strongly, it soon regresses into the realm of predictability, with inexplicable and convenient moments popping up from start to finish. How a character is able to survive a fall to his certain death, for instance, is just one of the many events that are wisely skirted over. Add to this dialogue that would have you laughing for all the wrong reasons, and it's clear that some of the problems which existed in 2007 have not been rectified.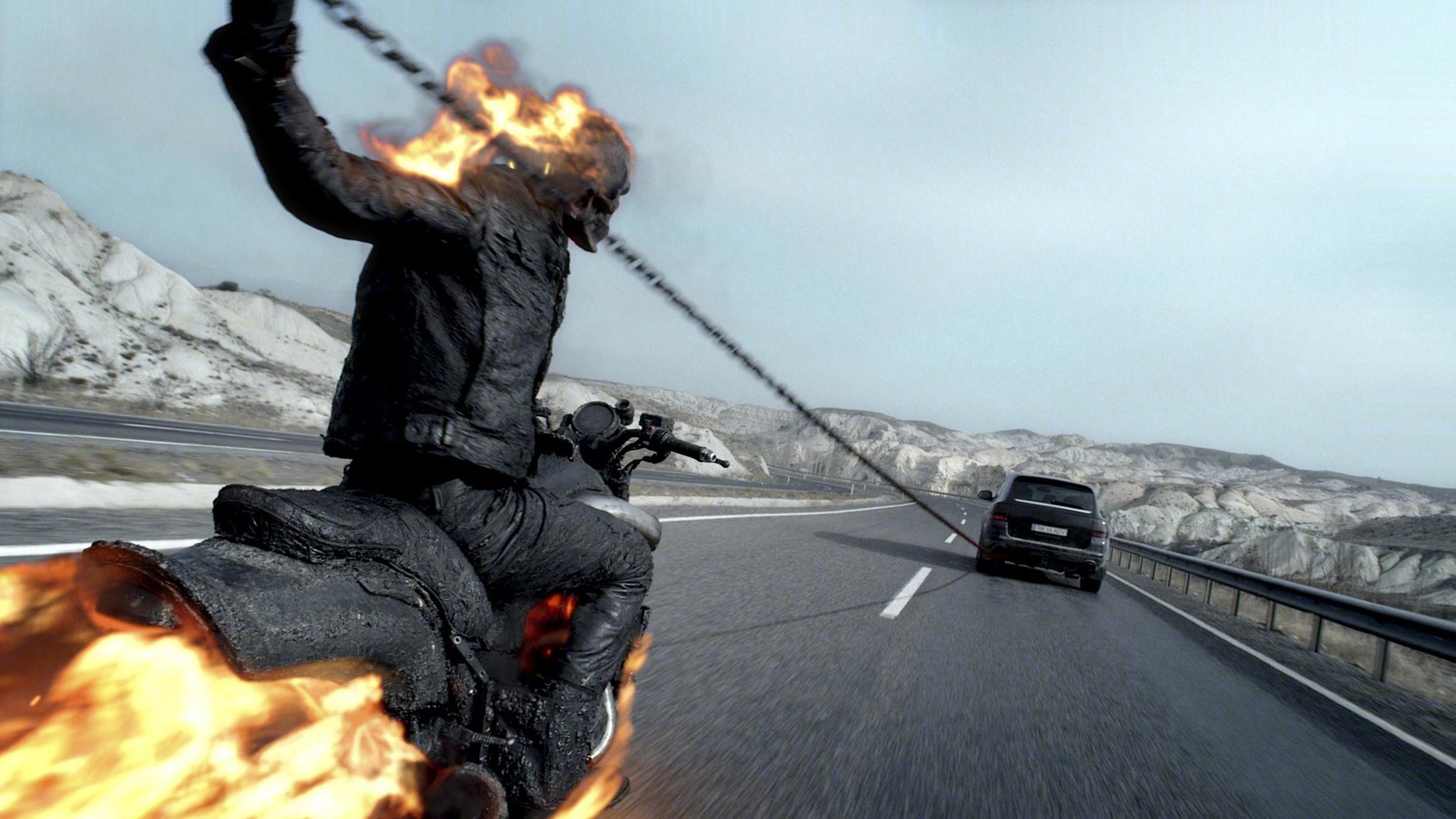 The action in Spirit of Vengeance is largely impressive, with a few exciting – if at times poorly edited – set pieces. You can tell the directors had a blast playing with Ghost Rider's ability to transform vehicles into fiery monstrosities, and the effect comes off on screen well. One effect which does not deliver is the 3D. With the Rider's use of hellfire chains, one would presume to think that 3D could really be utilised well here. However, the 3D is not so much poor as it is non-existent, and you would not be missing anything if you chose not to watch it in this format.
Cage delivers a hit and miss performance as the cursed Johnny Blaze and his bike-riding alter-ego. Ironically, Cage the Rider is more impressive than Cage as Blaze. The Rider's movements are very strange at times, but then again we're talking about a demon from hell, and it makes sense that his movements may be bordering on otherworldly. Idris Elba and Johnny Whitworth are well cast as Moreau and Carrigan (eventually Blackout) respectively, and both give strong performances. Elba in particular revels in Moreau's almost carefree attitude at times, and Whitworth makes good use of his limited time as Blackout. Unfortunately, the same cannot be said of the usually good Ciáran Hinds, whose Devil is not helped by a poor script. Violante Placido is capable as Nadya, but we're rarely given a moment to empathize with her and her son. It's just one example of poor storytelling that Spirit of Vengeance, much like Johnny Blaze himself, is cursed with.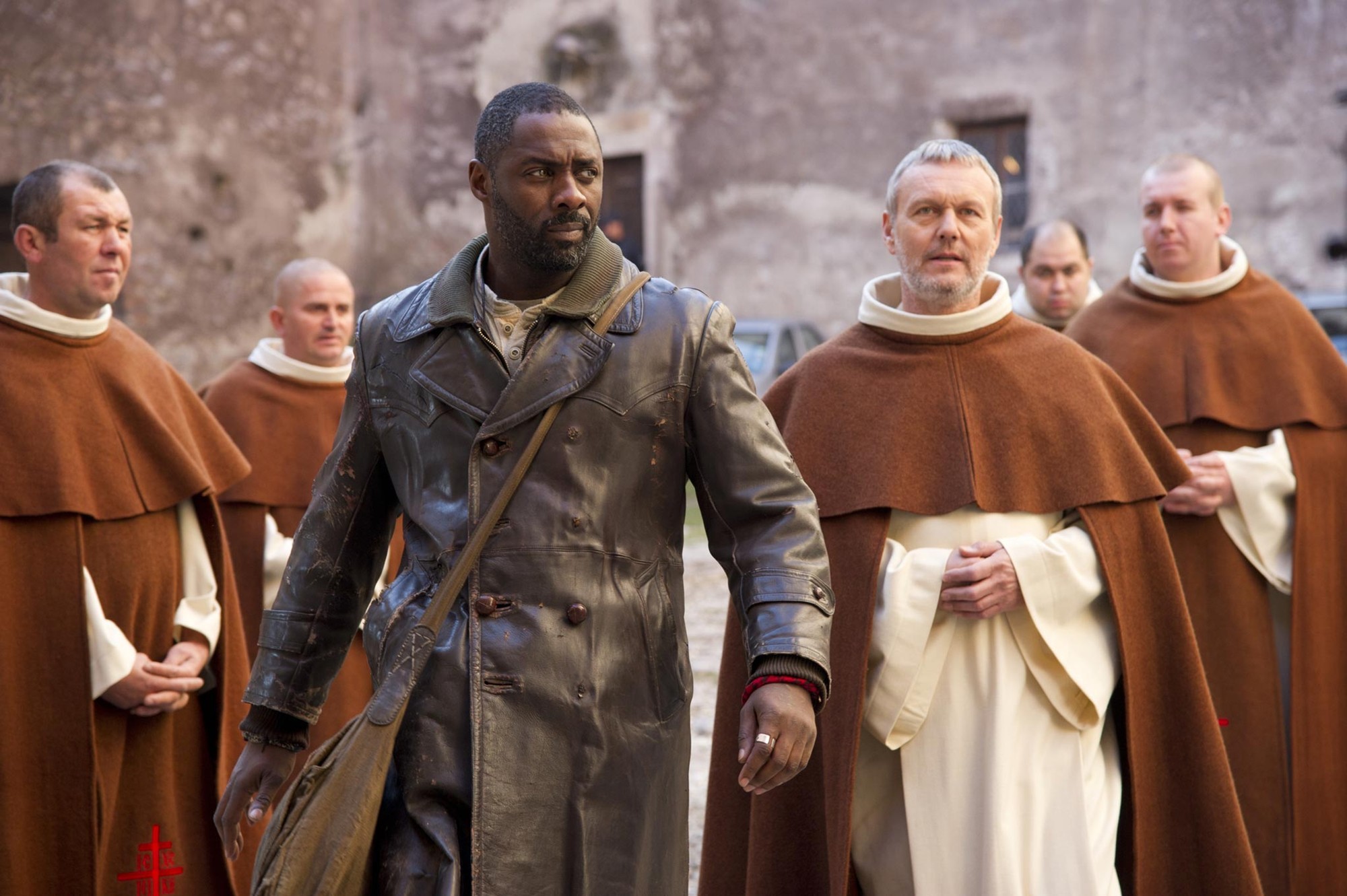 "Any Last Words"? Although Ghost Rider: Spirit of Vengeance improves on 2007's effort, it is still plagued by many of the same problems, as well as a few new ones. Disappointing.
Ghost Rider: Spirit of Vengeance was screened at the Empire Leicester Square courtesy of Sony Pictures in partnership with Entertainment One PR.
Ghost Rider: Spirit of Vengeance rides into UK cinemas TODAY.
Check out the trailer below:
Starring | Nicolas Cage, Ciáran Hinds, Violante Placido, Johnny Whitworth, Christopher Lambert, and Idris Elba.
Directors | Brian Taylor and Mark Neveldine       Certificate | 12A              Run Time | 1 hour 35 minutes