posted by Yin on 29/10/2010
I have been searching for ages for a good piece of reading material for my commute to the office every day. When I first started on the journeys I imagined myself using the two hours that the journey takes up in my day to do really useful things like planning my life and filling my brain with lots of useful information. Until today I hadn't found anything that remotely matched up to my expectations, formerly sticking in my headphones and having a snooze or playing a good old game of sudoku. More after the cut.
follow Emily on twitter
The Independent launched 'i', a bitesize daily collection of the news, on 26th October, and it has been receiving high positive feedback as well as exceeding Independent's sales predictions. For only 20p readers are showered with everything international affairs, business, finance, sport and everything in between, as well as television, weather and a few juicy bits of celeb gossip (definitely necessary to cure the 7am blues). The page one 'News Matrix' gives you all of the most important stories of the day in brief for those in a rush, which in my opinion is worth the 20p alone.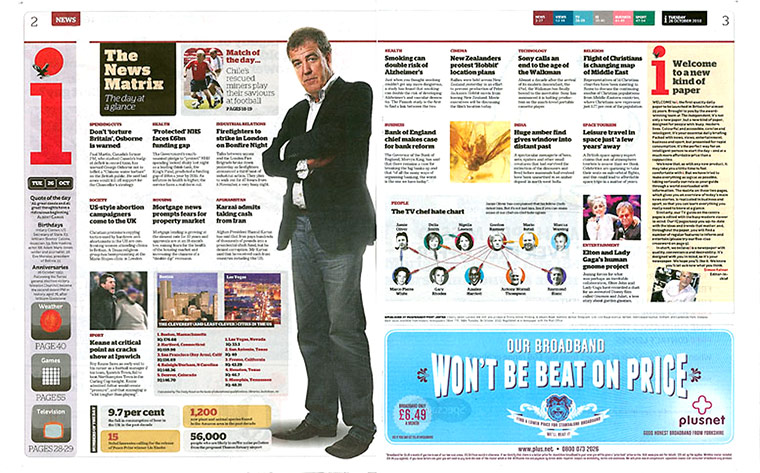 My favourite thing about 'i', aside from the price, is the amount of variety that it demonstrates. Text boxes scattered around the pages give quotes from editors and there is a section dedicated to comparing stories from The Independent and other papers such as The Daily Mirror and The New York Times. The lovely creators of 'i' have also provided us with a few celeb tweets most relevant to the day's news, and a petite and very discreet joke on the front of every issue next to the price tag. Today's was '20p. It's a millionth of a Rooney', linking in with the huge press coverage surrounding little Wayne at the moment, as well as the news that footballers are managing to squeeze themselves away from new 50% taxation rates by taking their wages as interest free loans. They do need to save the pennies after all.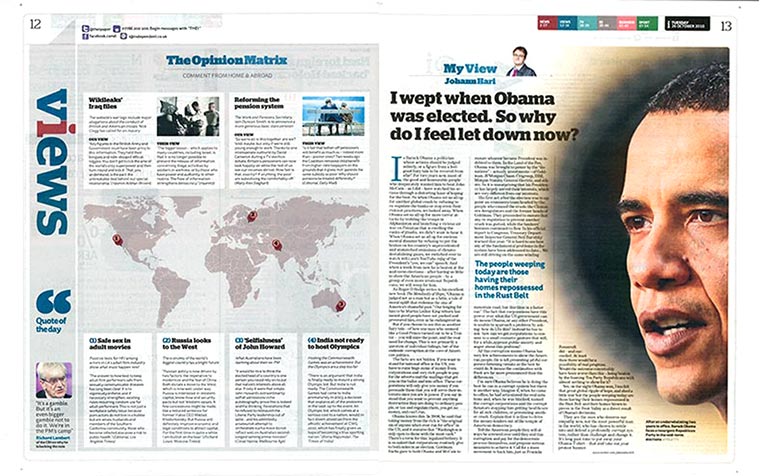 'i' recognises the need for diversity, and its broad overview for those too busy to be able to read a full broadsheet paper is entirely necessary. It's small, very cheap and most importantly makes me feel a little less brain dead for the 10 hours I have to spend on commuter trains each week… Grab one on your way out tomorrow but get in early. They have been selling out close to 9am this week!